The App
The Ubuntu Choir Practice Partner allows you to practice multi-part songs by yourself. You can control the volume of each part separately, so you can:
Listen to the song with all the parts
Listen to just one or two or three parts
Listen with several parts turned down low, so that the part you're trying to learn comes through more clearly
Sing along with the volume turned up on the part you're trying to learn, making it easier for you to keep on track
Sing along with the volume turned down on your part, challenging yourself to stay on track even with other parts dominating
Sing along with the volume turned off on your part — the ultimate challenge
For questions or support, please email choirapps(at)gmail.com.
Ubuntu Choir Practice Partner
Android and iOS (iPhone, iPad)
Free
Download iOS
Download Android
As shown in the figure at the bottom of this page, you can:
Play, pause and stop. (Stop returns to the beginning of the song.)
Move the time slider at the top right to go to any point in the song.
Slide volume controls to change the volume on any part.
If part of a lyric is hidden, swipe to the left to move the lyric and reveal the hidden portion.
On larger screens, by default, the list of songs appears on the left and the selected song on the right. Click the double arrow (
) to hide the song list, leaving the full screen available for the song.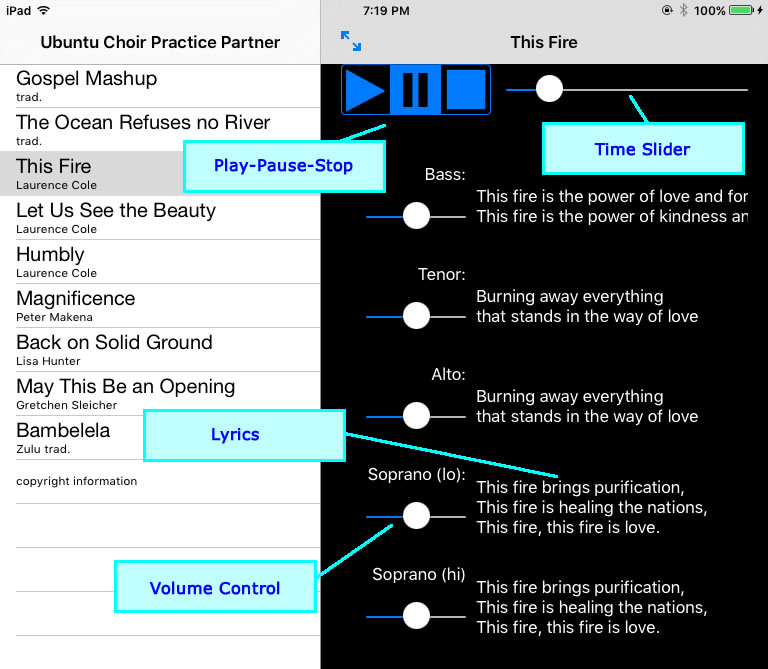 Songs:
Gospel Mashup (trad.) – "When the Saints," "Swing Low" and "I'm Gonna Sing" sung together.
May This Be an Opening – by Gretchen Sleicher.
This Fire – by Laurence Cole – Sheet music, audio files, and lyrics here
Humbly – by Laurence Cole – Sheet music, audio files, and lyrics here
Bambelela – Zulu traditional, meaning 'cling', 'hang in there', 'never give up'.
Magnificence – by Peter Makena. Recordings of Magnificence, both individual parts and all parts combined, are on songsforthegreatturning.net, thanks to Gretchen Sleicher.
Back on Solid Ground – by Lisa Hunter. Thanks to Gretchen Sleicher (songsforthegreatturning.net) for the audio files we used for this song.
The Ocean Refuses No Rivers – traditional, often sung as "The Ocean Refuses no River".
The iOS app also has "Let Us See the Beauty" by Laurence Cole.
You can support Laurence here.
You can support the development of this app and similar apps here.